Decorative Post Sleeves

Beautify your property with classic bollard post sleeves. Decorative Bollard Post Sleeves are used to delineate human or vehicular traffic and to mark boundaries. Sturdy HDPE construction is resistant to weather, UV rays, chemicals, insects, cracks and dents.
Slips easily over 4" x 4" wooden post or steel bollard post, or can be used as a stand alone post when used with the 10 lb base EG-1718BASE. Package includes 1 post, 6' of plastic chain, 2 s-hooks and installation kit. Choose Black, Gray or Beige.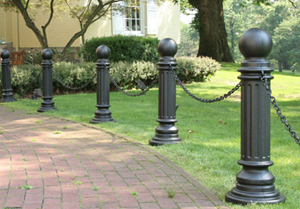 Choose from three distinctive styles: Hitching Post, Golf Tradition, or Classic. Features:
Maintenance Free (never needs painting)
Weather and UV resistant
Durable and lightweight
Looks like cast iron
Easy Installation.
This product is designed for decorative purposes only. Plastic chain not for overhead lifting or any weight bearing use.