National 50R-4SN-UL Exit Through Lobby Sign Hour Glow Rigid Plastic, 7" X 16"
Make sure everyone is aware that they must exit through the lobby in emergency situations. This glow-in-the-dark sign features an arrow and a graphic to give added emphasis to your policy.
24 Hour Glow Rigid Plastic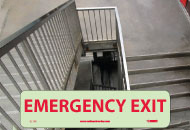 0.050 material is a combination of polyester film applied to rigid polystyrene. This material is non-toxic, nonradioactive and glows for more than 24 hours in total darkness. This material glows 2 1/2 times brighter than our 6-Hour Glow Rigid. The film meets or exceeds the following standards: ASTM, IMO, ISO/CD, NFPA and OSHA.