Posted by Kristi Brekhus on 12th Apr 2018

The world is changing dramatically and we only have ourselves to blame. There are natural transformations that occur within our environment, our lifestyles are accelerating them, causing negative impacts globally. We need to change the way we live if we want to save our planet. One of the main contributing factors to our eroding planet is pollution from single use packaging, specifically plastic. More than 8 million tons of plastic is entering our oceans every year. According to Dame Ellen McArthur, if we don't change our ways there could be more plastic than fish in the ocean by 2050.
The Ban on Exports to China
Over the last year, bans on foreign waste in China have amplified the need to find sustainable solutions in the western world. On January 1 st, 2018, China banned the import of 24 different types of waste. The plastic waste that has been sent to China over the past decade has had a devastating impact on their environment. While this may be a step in the right direct for China, the results of the ban will force the West to reconsider how they deal with recyclable waste. The United States is suffering from the convenience of plastics and, without the ability to ship their waste overseas, will need to own up to their addiction.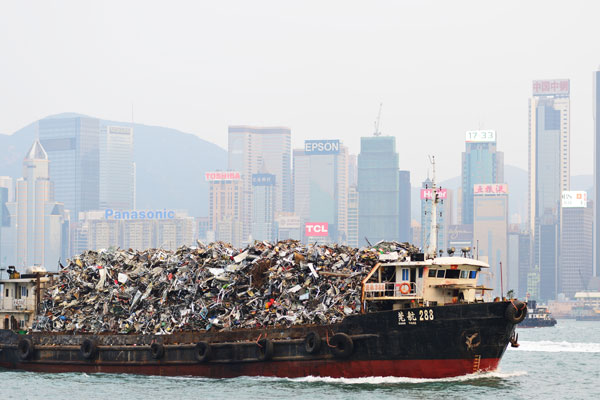 The Ellen McArthur Foundation: The New Plastics Economy
Fortunately, The Ellen McArthur Foundation has created The New Plastics Economy in an attempt to combat our waste crisis. The three-year initiative began in May of 2016 with the goal of designing a plastics system grounded in circular economy principles. According to the official website, there are five interlinked and mutually reinforcing building blocks:
Dialogue Mechanism: Bringing together for the first time a group of leading companies and cities across the global value to chain to complete collaborative demonstration projects and inform the other building blocks.
Global Plastics Protocol : Rethinking plastic packaging materials. Formats and after-use systems and standards to provide an economically and environmentally attractive target state to innovate towards.
Innovation moonshots : Mobilizing targeted innovation 'moonshots' focused on system-wide solutions that have the potential to scale globally.
Evidence base : closing critical knowledge gaps by building an economic and scientific evidence base from which to draw insights.
Outreach: engaging a broad set of stakeholders, including citizens, educators, students, policymakers, NGOs, and industry associations in the redesign of a better system.
Inventors from around the world submitted their innovative ideas to make unrecyclable packaging recyclable to the Circular Design Challenge, a contest within The New Plastics Economy initiative. In January, 2018, 5 winners were awarded $1 Million ($200,000 each) and joined a 12 months accelerator program to make their innovations marketable at scale.
The Winners
Category 1: Make unrecyclable packaging recyclable
The University of Pittsburgh team applies nano-engineering to create a recyclable material that can replace complex multi-layered packaging that is unrecyclable. The new packaging mimics the way nature uses just a few molecular building blocks to create a huge variety of materials.
Aronax Technologies Spain proposes a magnetic additive that can be applied to a material, creating better air and moisture insulation – making it suitable to protect sensitive products such as coffee and medical products, while still being possible to recycle.
Category 2: Combining materials that nature can handle
Working together, Full Cycle Bioplastics, Elk Packaging, and Associated Labels and Packaging make a compostable high-performance material from renewable materials, agricultural by-products and food waste to pack a broad range of products from granola bars and crisps to laundry detergent.
The VTT Technical Research Centre of Finland has created a compostable multi-layer material from agricultural and forestry by-products, which could be used for stand-up food pouches for products like muesli, nuts, dried fruit and rice.
The Fraunhofer Institute for Silicate Research ISC has developed a coating with silicate and biopolymers that can be used in many different food packaging applications protecting biopolymer packaging and food against premature degradation and is fully compostable.
Through these different innovations, we can hope to plastic waste a thing of the past.
More Solutions: Reusable Packaging
While the initiatives being researched by The New Plastics Economy are focused on biodegradable plastics, there are some things we can do to support sustainability and change in our own communities, starting today. Making sure you reuse packaging can make a huge impact on the environment. Here's a couple different ideas in how you can make a difference starting today.
| | |
| --- | --- |
| Bring your own take-out containers. Keep a bag of reusable plastic containers in the trunk of your car when you go out to eat. If you have leftovers, use these containers instead of asking for ones from the business. It's difficult for recycling plants to properly recycle contaminated food waste containers. If the containers are too dirty, the recycling plan will just send it the landfill. By simply bringing your own take-out container, you can help keep tons of plastic waste out of our environment. | |
| Use reusable produce bags when shopping for groceries. A quick search online will result in many different eco-friendly produce bags, some made from recycled plastic ! Instead of bagging your groceries in plastic that's only purpose is to transport produce home, invest in some reusable bags. In most cases, the plastic bags provided at grocery stores cannot be recycled. | |
| Put a deposit down on glass milk containers. What happened the milk man? Many grocery stores and farmers markets offer glass milk quarts and pints to take home. There is a small deposit to get the glass container. However, when the milk is used up, you can rinse the bottle and bring it back to the store to get your deposit back. The bottles are then returned to the creamery to be washed, sanitized, and reused an average of 5 times before being recycled again. | |
Infographic: 7 Single-Use Swaps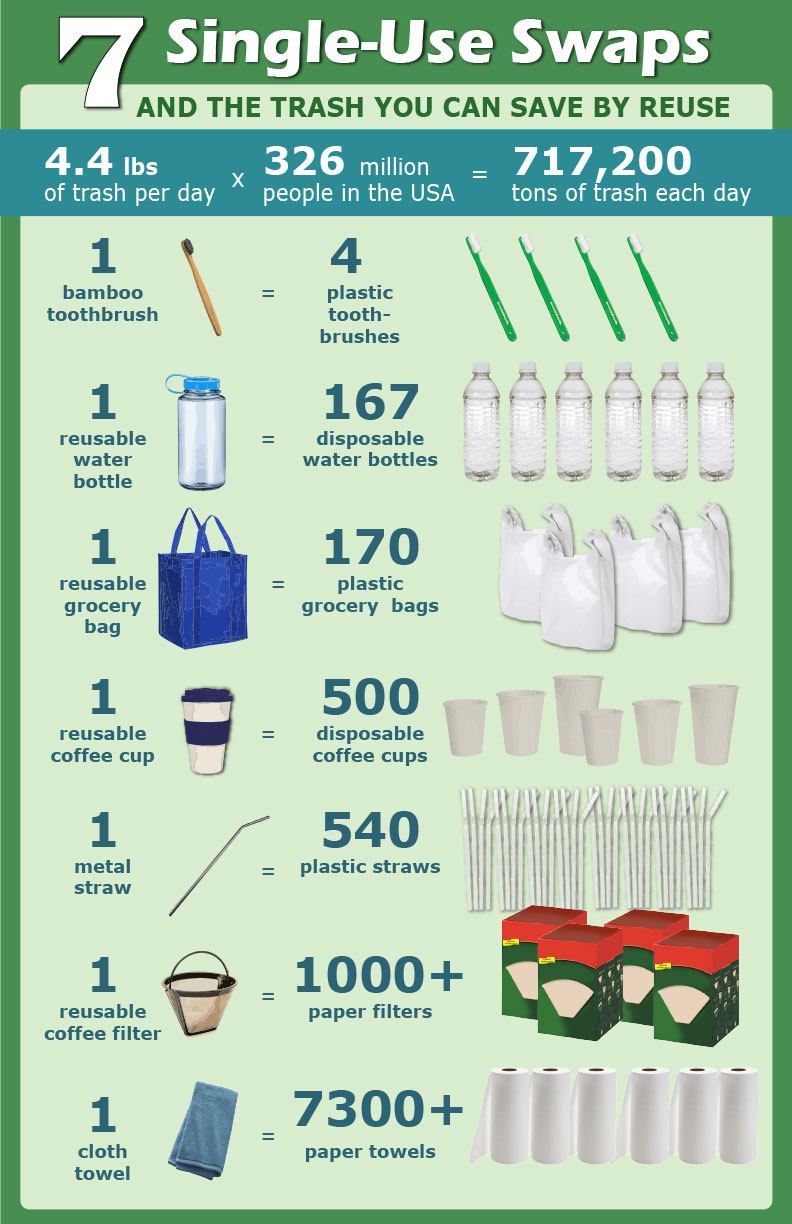 Taking the time to make small changes in your every day life can have a huge impact on the environment. If we all work together, we can change the future of our planet.
Happy Earth Day!
-The CP Lab Safety Team
Learn more about The New Plastics Economy
Find out more about the initiatives:
Full Cycle Bioplastics, Elk Packaging, and Associated Labels and Packaging
The VTT Technical Research Centre of Finland