We Volunteer
At CP Lab Safety we believe in promoting sustainable practices in our community. We make it a company goal to have a positive impact on the environment around us. One of the best ways to achieve this goal is through volunteering. Not only does it help the environment but it also builds teamwork and character, allowing us to grow as a company while giving back to our world. Check out a video from our Volunteer Day, 2018!
2022 Volunteer Day
Location: Galilee Harbor, Sausalito, California
Organization Website: Marin Audubon Society: https://marinaudubon.org/
This year the CP Lab Safety team headed to Sausalito with the Marin Audubon Society to remove an invasive species from part of the shoreline on the marsh. The species is called sea lavender, specifically it's a Mediterranean version of sea lavender called Algerian sea lavender (Limonium ramosissimum), nicknamed LIRA. We have a native version of sea lavender as well, which is important for pollinators. Unfortunately this invasive species is competing with our native species, directly effecting the plant and animal life around the marshes in the area. The goal is to eradicate the species from our unique marshlands, which have suffered enough due to human development and habitat loss. This is not an easy task as each plant can produce thousands of floating seeds that can spread rapidly.
LIRA took two years to be identified by botanists at SFSU. It's suspected that it may have been sold in nurseries in the area and planted in peoples' gardens, allowing it to spread its seeds throughout the bay area. March to mid-May is the perfect time to remove as much as possible before it goes to seed after flowering. We had a great time putting a big dent in the LIRA population along this shoreline, enjoying the fresh air and making a difference in our ecosystem.
| | |
| --- | --- |
| The CP Lab Safety team in Sausalito | Everyone enjoying the beautiful weather, fresh air and hard work! |
| Jude educating the group on the history of our wetlands | The team working with Jude of Marin Audubon Society |
If you think you see LIRA, don't remove it. It's best to contact Marin Audubon Society and let them know where you found it so they can investigate. The good news is, there are planned restorations in the works which could restore 50% of our wetland acreage in the near future. We have an incredible and unique ecosystem here in the bay area and we are proud to help restore it!

2019 Volunteer Day
Location: Ocean Beach, San Francisco
Organization Website: http://www.parksconservancy.org/
About: Golden Gate National Parks Conservancy is a non-profit serving San Francisco and Marin counties in Northern California. We had such a wonderful time last year cleaning up our beaches we decided to go back in 2019! Check out our photos below:
Emery Pharma out on the beach!

The CEO and Presidents of CP Lab Safety and Emery Pharma

Karen cleaning up the beach!

Michelle and Jessica from CP Lab Safety

CP Lab Safety

Learning about pollution and our oceans from

Marcus, the Park Ranger
Location: Ocean Beach, San Francisco
Organization Website: http://www.parksconservancy.org/
About: Golden Gate National Parks Conservancy is a non-profit serving San Francisco and Marin counties in Northern California. Ocean Beach, San Francisco is a wonderful place to visit and have a bonfire. Unfortunately, many visitors leave garbage behind. On July 10, 2018 CP Lab Safety and Emery Pharma came together to make a difference.
| | | |
| --- | --- | --- |
| | | |
| CP Lab Safety | | Collecting trash down the coast |
| | | |
| Walking onto Ocean Beach | | Picking up trash |
| | | |
| Ocean Beach, San Francisco | | Emery Pharma! |
Emery Pharma + CP Lab Safety Volunteer Day – Lava Mae: Taking Radical Hospitality to the street
On December 18th, 2017, CP Lab Safety joined Emery Pharma in Oakland, CA to volunteer with Lava Mae. Sporting her awesome Periodic Table Hat and volunteer shirt, Kelly Farhangi, CEO and Co-founder of CP Lab Safety, helped hand out clothing to the homeless. According to an article from June, 2017 in the East Bay Times, "In the past two years, the number of Alameda County's homeless has shot up 39 percent, to 5,629 people, according to a recent count." Lava Mae is reaching out to the homeless population during the holidays, giving them clothing, medical care, food and supplies to get through the cold months. We are proud to have been able to contribute to this movement and hope to do so in the years to come.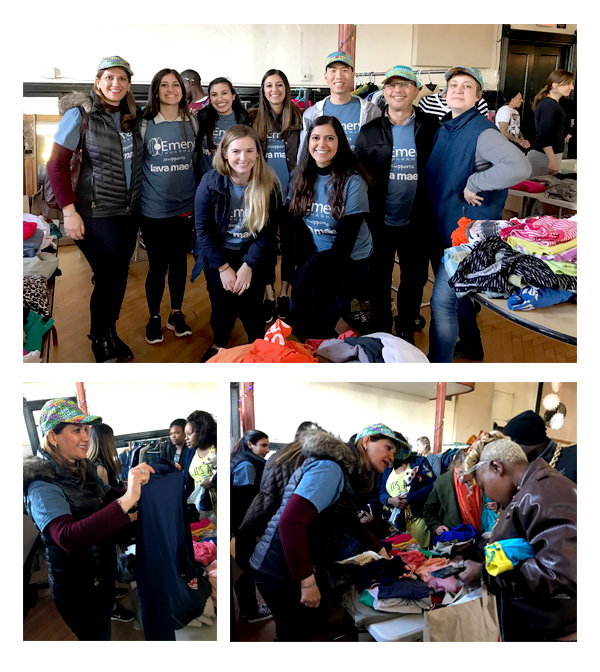 More About Lava Mae:
Founded by Doniece Sandoval in 2013, Lava Mae began by converting public transportation buses into showers and toilets on wheels to deliver hygiene and rekindle dignity for our homeless guests in San Francisco. To-date, Lava Mae has served more than 4,000 individuals who have taken 20,000+ showers on our mobile units, dramatically raised awareness about the lack of access to showers and basic hygiene for our homeless neighbors, and inspired new mobile hygiene programs across the U.S. and abroad. In 2017, Doniece was recognized as a CNN Hero.
Do you live in Los Angeles or San Francisco and want to get involved with Lava Mae? Found out about volunteer and donation opportunities here: https://lavamae.org/get-involved/


Location: Marin Headlands
Organization Website: http://www.parksconservancy.org/
About: Golden Gate National Parks Conservancy is a non-profit serving San Fransico and Marin counties in Northen California. The Marin Headlands, in Marin County, is one of 6 native habitats for the endangered Mission Blue Butterfly. For our 2017 Volunteer Day, we helped out with habitat restoration by removing the weed French Broom. The French Broom is rampant in Marin Headlands and is killing the perennial Lupine, a plant the Mission Blue Butterfly needs to survive.
| | | |
| --- | --- | --- |
| | | |
| Michelle and Kelly | | Jessica weeding the French Broom |
| | | |
| Karen keeping tally while Kristi weeds | | Keeping track of how many weeds we pulled! |
| | | |
| Michelle using the awesome weed puller! | | Jessica and Kristi weeding |
| | | |
| Karen enjoying the weather | | The CP Lab Safety Volunteer Team! |
2016 Volunteer Days
Location: Slide Ranch
Organization Website: http://slideranch.org/
About: Slide Ranch, a nonprofit organization, was established in 1970 and is recognized as one of the first Park Partners of the Golden Gate National Recreational Area. Their mission is to connect children to nature through farming, cooking and caring for animals.
| | | |
| --- | --- | --- |
| | | |
| We made it to Slide Ranch! | | In the beautiful garden |
| | | |
| Move around that compost! | | Shoveling compost |
| | | |
| Cleaning out the flowerbeds | | Snipping flowers |
| | | |
| Planting in the fresh soil | | What a wonderful place! |
Thank you for allowing us the opportunity to work with you. We are honored we were able to play a small part in what you do to make the world a better place!
Your Friends,