Posted by Kristi Brekhus on 27th Aug 2020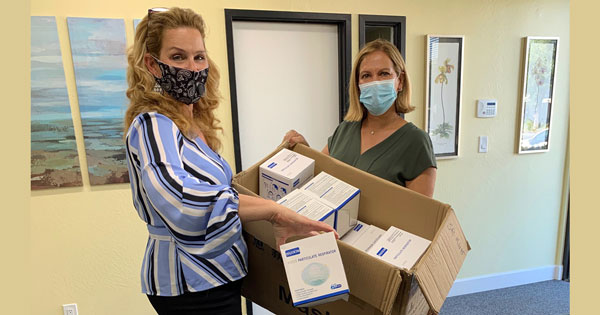 Pictured: Kelly Farhangi delivering KN95 Face Masks to Roxanne Albin of Applied Financial Services as a donation to SoCo Emergency.
When CP Lab Safety learned that local business Applied Financial Services was accepting donations for SoCo Emergency, they were immediately willing to help. With wild fires ravaging much of the San Francisco Bay Area, many people have been forced to evacuated their homes. Many evacuees without local friends or family have taken shelter at a temporary evacuation center located at the Sonoma Fairgrounds.
Applied Financial Services is collecting donations to deliver to the temporary residents in the Sonoma Fairgrounds in the form of monetary donations and PPE. Since the beginning of the pandemic in the United States, CP Lab Safety has been working to keep communities healthy and safe by making PPE available to the public. Managing the supply chain during a global crisis has been an around-the-clock job, but the diligent team at CP Lab Safety has been working tireless to do just that, keeping masks and other much-needed supplies in stock. In addition to supplying businesses, Kelly Farhangi, the President and CEO, jumped at the opportunity to help those affected by the wildfires by donating 500 KN95 Face Masks.
"We are so grateful to work and live is such a caring and generous community. Kelly Farhangi, CP Lab Safety, immediately responded to our donation drive by donating 500 KN95 masks that we delivered directly to the fire evacuees at Santa Rosa Fairgrounds." – Roxanne Albin, Applied Financial Services
If your organization is local and would like to donate, you can stop by their office at:

359 Bel Marin Keys Blvd
Suite #1
Novato, CA 94949

To view what they are currently accepting you can visit their Facebook page.
To view how you can directly contribute to SoCo Emergency please click here.
To view CP Lab Safety's complete line of PPE please click here.