Posted by Vanessa Link on 15th Sep 2021
Dogs are such incredible creatures. They are by our side when we need them most, and they've been trained to perform a wide variety of tasks over their 20,000 years as our best friends. They never cease to amaze, and now they've even successfully been trained to sniff out COVID-19 infections in people, with shockingly high accuracy. Could this be an efficient new way to prevent the spread of the virus?
Two dogs began their work at the Miami International Airport last week, by the names of One Betta and Cobra. These two were originally trained to sniff out Laurel Wilt, an infectious disease of Avocado trees. It took them only a few weeks to become proficient at detecting COVID-19. Before being put to work, their abilities were tested in peer reviewed, double-blind studies along with several other pups, ranging in accuracy from 96% to over 99%. One Betta boasts an accuracy rate of 98.1% while Cobra holds the record of 99.4%. They're more accurate than antigen or PCR tests and their detection happens almost instantly. They are currently being used to sniff the virus on the breath or sweat of airport employees. If they detect the virus, the employee will be required to take a PCR test and wait for the results before returning to work. In a few weeks, the dogs may be doing virus detection work on the passengers themselves. This could deter people who have lied about their exposure levels to get on a flight and could also prevent many infected passengers from spreading the virus in travel.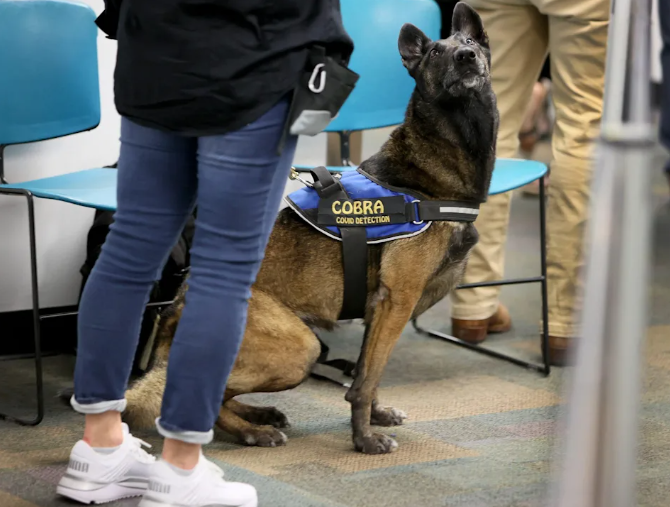 During the dogs' training they were deployed to detect the virus on contaminated surfaces at Governor Ron DeSantis' emergency operations center, and to a food and wine festival to test the guests arriving. Envisioning a world where we can accurately determine whether a surface or object is carrying the virus and whether attendees to a big event are infected sounds so comforting. This could certainly bring new hope as the variants spread, and also sounds much more efficient than PCR or rapid testing. However, before you get too excited, there are a few roadblocks to consider.
We've seen the incredible ways in which dogs can be used to detect illnesses like cancer and diabetes. They're a wonderful resource for these kinds of things. However, it's time consuming and expensive to train dogs to do such a task. In order to be able to provide trained dogs to every airport for example, it could cost millions. Not to mention the thousands of event places like stadiums and concert venues. In an ideal world, it would be nice to post one of these pups at every publicly used door!
Currently, it's difficult to say how much use will come of this. There has been talk of the possibility of training the dogs even to detect individual variants of the virus. Sometimes it does seem as though there is no end in sight, with variants spreading rapidly and the number of unvaccinated individuals not budging in certain areas of the U.S. so the idea of this is both comforting and fascinating. Perhaps if this continues long enough, we will have a future of adorable virus sniffers helping us out at many airports and event venues.