Posted by Mark L. Nelson, Ph.D. VP of Business and Science Development, CP Lab Chemicals on 4th Oct 2022
One of the most active areas of pharmaceutical research in 2022 is the search for drugs and compounds that affect Alzheimer's Disease (AD), which is increasing in size as the aged population grows, with 6.2 million individuals with AD and expected to reach 12.7 million in the US alone by the year 2040.
Currently, there are over 140 agents being assessed in human clinical trials as of 2022, and most are disease modifying agents targeting a wide variety of biological processes in AD. Compounds and drugs have been studied by the National Institute on Aging and the Alzheimer's Association, classifying these compounds as shown in the table below using the International Alzheimer's and Related Dementias Research Portfolio (IADRP, iadrp.nia.nih.gov) methods. From this study of all the mechanisms of action being investigated in the clinic, all the potential therapies fall into the following basic categories based on their drug targets.

Mechanisms of Action of Currently Studied Alzheimer's Drugs
| | | | | |
| --- | --- | --- | --- | --- |
| Amyloid | Neurotransmitter Receptors | Cell Death | Growth Factors/Hormones | Epigenetics |
| Tau | Neurogenesis | Proteostasis/Proteinopathies | Synaptic Plasticity | Circadium Rythym |
| Apolipoprotein E APOE lipids | Inflammation | Metabolism and Bioenergetics | Neuroprotection | Multi-Target |
| Lipoprotein Receptors | Oxidative Stress | Vasculature | Gut-Brain Axis | Unknown Target |
Drugs that are prescribed for Alzhemeirs in the United States in medicine are listed below, along with their major mechanisms and catalog number for drug products at CP Lab Chemicals.
Currently Prescribed Alzheimer's Drugs in the United States 2022
| | | |
| --- | --- | --- |
| Memantine | NMDA rcepotor antagonist (N-methyl-D-Aspartate receptor | C9292 |
| Donepezil | Cholinesterase Inhibitor/Nicotine Receptor Modulator | CP-77850944-1G |
| Galantamine | Cholinesterase Inhibitor | TCI-G0293-1G |
| Rivastigmine | Acetyl and Butyrylcholinesterase Inhibitor | TCI-R0093-5G |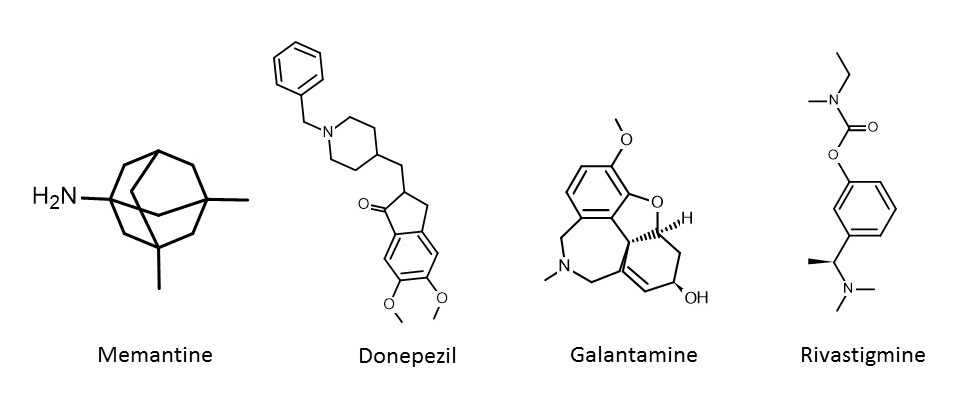 Numerous other compounds have been tested in the clinic, and include the following drugs and antibiotics, nimodipine (CP-18892332-1g), a calcium channel blocker, and minocycline (CP-39523551-1g), an orally active antibiotic in the tetracycline family of compounds, acting on glial cells and other mechanisms of AD outlined above.
CP Lab Chemicals supplies researchers worldwide compounds for Alzheimers research, both drugs that are used in medicine, as high-purity experimental compounds from many different chemical families for in vitro and in vivo experiments. CP Lab Chemical compounds span the familes of natural products-from small molecule metabolites to fatty acids such as Omega-3 derivatives to lignans, flavonoids, tannins, polyphenols, sterols and alkaloids to many synthetic compounds with anti-inflammatory, antioxidant, anti-amyloidogenic, and anticholinesterase activities.
CP Lab Chemicals also supplies a complete line of biochemicals, mammalian cell culture media and laboratory disposables, as well as biologicals, antibodies and enzymes for your Alzheimers Disease research- all in one place.
Contact us at anytime or continue browsing our website at CP Lab Chemicals for further product listings.
CP Lab Chemicals-Reagents for Alzheimer's Disease Research
References
Salomone S, Caraci F, Leggio GM, Fedotova J, Drago F. New pharmacological strategies for treatment of Alzheimer's disease: focus on disease modifying drugs. Br J Clin Pharmacol. 2012 Apr;73(4):504-17. doi: 10.1111/j.1365-2125.2011.04134.x. PMID: 22035455; PMCID: PMC3376428.
Eikelenboom P, van Exel E, Hoozemans JJ, Veerhuis R, Rozemuller AJ, van Gool WA (2010). "Neuroinflammation – an early event in both the history and pathogenesis of Alzheimer's disease". Neuro-Degenerative Diseases. 7 (1–3): 38–41.
Liu, Y., Zhou, S., Huang, X. et al. Mechanistic insight of the potential of geraniol against Alzheimer's disease. Eur J Med Res 27, 93 (2022). https://doi.org/10.1186/s40001-022-00699-8
Tikka TM, Koistinaho JE (15 June 2001). Minocycline provides neuroprotection against N-methyl-D-aspartate neurotoxicity by inhibiting microglia. Journal of Immunology. 166 (12): 7527–33. doi:10.4049/jimmunol.166.12.7527. PMID 11390507.

Noori T, Dehpour AR, Sureda A, Sobarzo-Sanchez E, Shirooie S. Role of natural products for the treatment of Alzheimer's disease. Eur J Pharmacol. 2021 May 5;898:173974. doi: 10.1016/j.ejphar.2021.173974. Epub 2021 Feb 27. PMID: 33652057.
Oliver DMA, Reddy PH. Small molecules as therapeutic drugs for Alzheimer's disease. Mol Cell Neurosci. 2019 Apr;96:47-62. doi: 10.1016/j.mcn.2019.03.001. Epub 2019 Mar 12. PMID: 30877034; PMCID: PMC6510253.