Posted by Kristi Brekhus on 8th Mar 2018
What Hazards are Associated with your HPLC / UPLC and LCMS/MS?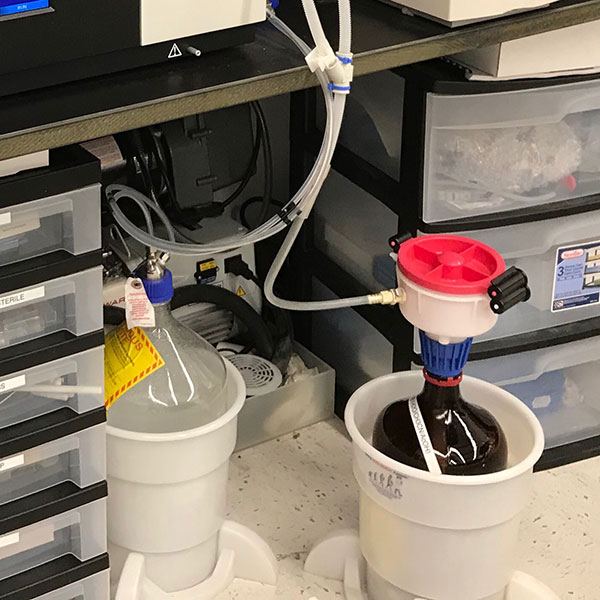 High-Performance Liquid Chromatography (HPLC), or Ultra High-Pressure Liquid Chromatography (UPLC) is a process used by synthetic or analytical chemists to separate, identify and quantify each component in a mixture. This process can help in many different applications such as research and development, analytical chemistry, pharmaceutical manufacturing, research of components in complex biological samples, and medicinal purposes such as vitamin levels in blood serum samples.
While being a highly effective and common process in laboratories, HPLC /UPLC also poses risks to employee safety and health if not handled properly. The following are common tasks and their associated risks:
Task or Scenario

Hazard/s

Associated Harm

Solvent used as mobile phase

Toxic, Flammable

Potentially hazardous vapor Inhalation

Solvent can come into Skin Contact

Solvent might splash on face or other parts of body from connecting tubing

Flowing liquids in HPLC are under high pressure

Capillaries can come off from the connector

Leakage of capillary and connection

Electrocution or fire

Can cause eye injury and splash chemicals on face

Solvent can come in skin contact

Due to high pressure capillaries might come off from the connection and overflow solvent/mobile phase on bench, under HPLC and power connection.

Analyzing Samples

Toxic

Biohazard (e.g. Pathogenic microbes, clinical samples, GMO etc.)

Samples dissolved in organic Solvents

Pollutants, metabolic inhibitors, etc. can be harmful

Pathogenic microbes and clinical samples has the potential to cause disease

Organic solvent can be inhaled if not handled and disposed of correctly.

Solvent and Sample Spills

Toxic

Flammable

Biohazards

Vapor inhalation, can come in contact with skin

Can cause fire

May cause infection

How can I prevent these hazards from happening?
While many of the hazards listed above can be avoided through proper training and Personal Protective Equipment, using correct laboratory equipment is a must. The containers used to provide the necessary solvents for HPLC, when not properly capped, release toxic fumes into the laboratory, polluting the environment. Some laboratories will haphazardly attempt to tape up the bottle closures around the tubing. While this is better than nothing at all, it isn't OSHA compliant and it still doesn't prevent pollution nor help keep the chemicals intact if the bottle is knocked over. Moreover, the solvent bottle becomes available to potential sources of contamination which may affect the results of the experiment. This is especially concerning when HPLC is used in tandem with Mass Spectrometer.
How can CP Lab Safety help you be safer and have better results?
Our Classic Port Caps are the solution to this workplace hazard. Made from Polypropylene with a PTFE insert, they are compatible with most solvents and they're designed to fit standard GL45 and GL38 glass bottles, as well as Nalgene 38-430 plastic bottles – the most commonly used containers for HPLC. The ¼-28 Ports support 1/8" (Outer Diameter) tubing, machined at a 10-degree angle. These Port Caps help with OSHA compliance (29 CFR: 1910.1450) through prevention of harmful off-gassing and ensuring proper delivery and waste containment of chemicals.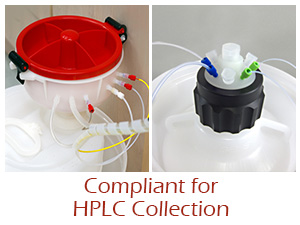 All ECO Funnels and Port Caps are customizable. To learn more about our Port Caps and how you can become more compliant, please contact us via email: info@cplabsafety.com or call us at (888) 322-5722. You can also browse our wide selection of Port Caps.