"This blackberry pie is my family's favorite. I was fortunate to receive this recipe from "Gram", my children's Great Grandmother. In the summertime, I would spend a good amount of time picking wild blackberries. The berries that weren't used immediately were put in freezer bags, portioned as such that each bag had enough berries for 1 pie. Come Thanksgiving, I pull from my blackberry stash to make this delicious pie!"
- Karen Siebert, Senior Customer Service Specialist
Ingredients:
4 cups Blackberries
⅔ to ¾ cup sugar
¼ cup all-purpose flour
½ teaspoon cinnamon
¼ teaspoon nutmeg
½ teaspoon grated lemon peel
1 tablespoon butter
Flaky Pastry Pie Crust* (recipe below!)
Instructions:
Preheat oven to 425°F. In large bowl, combine first 6 ingredients (this will be the pie filling); let stand.
Roll out half of the pastry and line a 9-inch pie plate as directed in steps 1 though 3 of the pastry recipe.
Spoon filling evenly into crust, dot with butter, prepare top crust repeating step 3 making the circle 1 inch larger than the pie plate. Transfer top via rolling pin and trim edges.
Use Pinch or fork method the form crust edge.
Make slits in top of pie crust to vent. Bake 40-50 minutes until golden brown.
Cool and serve with your favorite pie topping!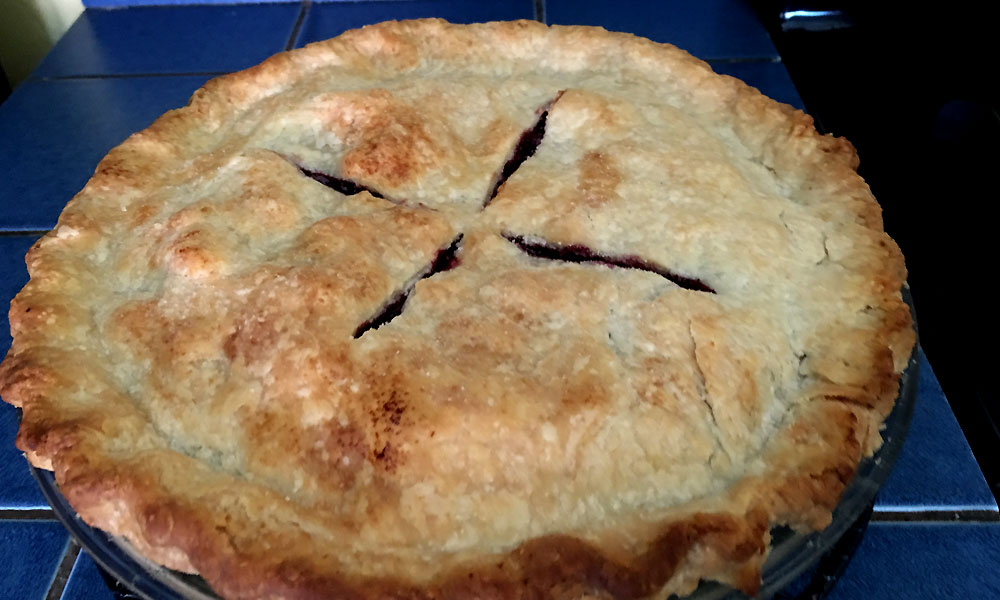 *Flaky Pastry Pie Crust
Ingredients:
3 cups all-purpose flour
1 ½ teaspoon salt
1 ⅓ cup shortening (*Butter may be substituted see below)
8-9 tablespoons of ice water
Instructions:
1.In medium bowl, with fork, stir flour and salt. With pastry blender or two knives used scissor-fashion, cut shortening into flour until mixture resembles coarse crumbs.
2.Sprinkle 8-9 tablespoons iced water a tablespoon at a time, into flour mixture mixing lightly after each addition until pastry is just moist enough to hold together. Shape with hands into 2 disks. (*if using butter wrap in waxed paper and refrigerate 1 hour.
3.On lightly floured surface, with lightly floured rolling pin, roll into a circle 1/8 inch thick and about 2inches larger around than pie plate.(re-flour lightly if needed) Roll pastry circle gently onto the rolling pin; transfer to pie plate and unroll, easing into bottom and side of plate.
** Tip: You may roll dough between sheets of plastic wrap to prevent sticking. Lift using plastic wrap into place and peel of plastic!
Recent Posts
The disinfection of surfaces at home, in public spaces, and in hospitals and clinics needs to be a …

Working with Inorganic Acids in the LaboratoryAcids are of great importance in the laboratory and ar …

1.Lead- from older plumbing systems pre-1986, when lead pipes, solder, and components were banned. …