---
---
---
---
---
---
---
---
---
Justrite
|
sku:
JP-899270
---
Justrite
|
sku:
JP-899260
Vertical Drum Combo Cabinet (2-Drums, 3 Safety Cans) Securall® V375
---
Part Number:

SA-V375

Lead Time:

Call for availability: 4-6 weeks

Shipping:

Bulk Pricing:

Size:

2 drum

Color:

red

Material:

steel

Style:

safety cabinet
Holds 2 Drums and 3 Safety Cans75 Gallon Flammable Storage Cabinet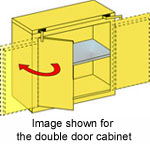 Vertical - Self-Close, Self-Latch Safe-T-Door
Dimensions: 67"H X 43"W X 31"D
Ship Weight: Approx. 448 Lbs.
No. of Shelves: 1
Approval:
* Complies with current OSHA regulations.
* FM-Factory Mutual Approved.
* NFPA - Designed in accordance with specifications set forth by the National Fire Protection Association.
Keep Flammable Liquids close to the work area in a safe and organized way while limiting employee exposure with SECURALL® Safety Storage Cabinet. Flammable Cabinets are designed to meet safety requirements for the handling of Flammable Liquids. Choose from a large selection of models from 4 to 90 gallon storage capacity. Smaller compact cabinets are convenient where space is limited. All cabinets comply with current OSHA regulations and are designed in accordance with the standards of NFPA Code 30. Popular models are FM approved.
The interior and exterior finish consists of an aliphatic polyurethane finish. This polyurethane coating has chemical properties to withstand salt spray, chemical rub, fading due to UV exposure, and other tests performed to epoxy paints. Urethane is more durable under conditions when moving items in and out of the cabinet as it resists chipping and peeling. Unless some other color is specified, cabinets will ship in designated standard color. For custom colors, customer must provide a paint chip.
Technical Details
| | | | |
| --- | --- | --- | --- |
| 1. | Finished in 2-part urethane | 8. | Continuous piano hinge |
| 2. | Galvanized steel shelving | 9. | Large Warning label |
| 3. | Double wall construction with 1 1/2"; air space | 10. | Adjustable zinc plated leveling legs |
| 4. | Flush mounted locking handle | 11. | Two 2"; vents with flash arrestors |
| 5. | Static grounding bolt current OSHA compliant | 12. | Leak proof sill 2"; deep |
| 6. | Reinforced 18-gauge all-welded construction | | |
| 7. | 3-point self latching (Non Sparking) doors. | | |
Technical Specs
75 Gal Drum Storage Cabinet 2-30 Gal. Drum and 3-5 Gal. Safety Can Storage Vertical - Self-Close, Self-Latch Safe-T-Door Dimensions:67"H X 43"W X 31"D No. of Shelves: 1