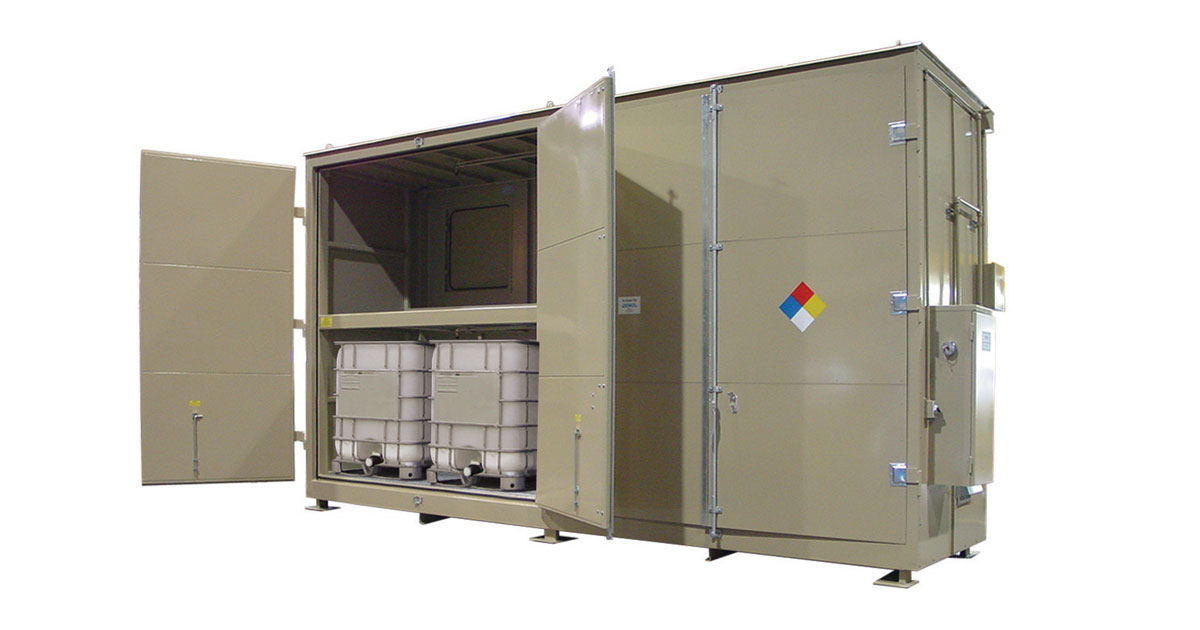 The proper storage of flammable or other potentially hazardous chemical material can be confusing, and purchasing an Outdoor Chemical Storage Building can be a daunting task. At CP Lab Safety, we offer a range of different Outdoor Chemical Storage Buildings to help you store your chemicals safely. For many companies, a separate storage building is a requirement, and not every storage building is the same. So which one is right for your needs?
What is an Outdoor Chemical Storage Building?
According to The National Fire Protection Association (NFPA), an outdoor chemical storage building is "a prefabricated structure, manufactured primarily at a site other than the final location of the structure, and transported completely assembled or in a ready-to-assemble package to the final location." In other words, an Outdoor Chemical Storage Building is a safe way to expand your facility without building from the ground up. An additional benefit is the ability to transport the entire building. The outdoor storage buildings vary primarily in size and fire-rating (fire protection level, explosion level, etc).
However, when deciding which outdoor storage building is right for your company, there are other factors we suggest that you consider: primarily the quantity and type of chemicals being stored, and your storage building's location.
Choosing a storage building: what kind of fire-rating do I need?
The fire-rating is the rated fire resistance of the wall. The difference between a 2-hour and 4-hour fire-rated building is the amount of time it takes for a fire to breach the walls of the building, approximately 2 or 4 hours. The structural difference is the amount of material within the walls. In a 4-hour fire-rated building, there is more material, typically sheetrock or dry-wall. Answering the questions below will help you define the storage building your business needs.
What type of material is being stored?
There are three different types of buildings: fire-rated, rated for combustibles, and unrated. First, it is important to identify the chemicals to be stored. When storing flammable or combustible chemicals, it is incredibly important that you store them in a storage building that complies with the NFPA Code 30 and local codes.
When storing non-flammable, non-combustible material, an unrated building may be used. Be sure to check with your local Authority Having Jurisdiction (AHJ) or local Fire Marshal for requirements and enforcement of local codes. They will have the most accurate information regarding rules for your specific location.
How much material will be stored?
The storage building should be large enough to fit the number of containers in a single layer. A general requirement is that the building has a sump capacity to catch spills and leaks inside the buildings which meet the Environmental Protection Agency (EPA) requirements. Typically, most storage buildings have a minimum of 10% of the aggregate volume or 100% of the largest container, whichever amount is greater. For example, if you have 20 drums, you would have the sump capacity for 2 drums OR if it's a 55 Gallon drum, you'd have 55 Gallons sump capacity.
There may be other local standards for the sump and you will have to follow those as well. Check with your AHJ to learn more.
Where will it be located?
The location of the Safety Storage Building is an important factor when determining the right specifications. Always verify setback requirements with your AHJ or local Fire Marshal; however, a general standard is:
4-hour fire-rating required within 10 feet of a building or fence line, or inside an occupied building
2-hour fire-rating required when 10-30 feet away from other buildings or fence line
No fire-rating required when 30+ feet away from other buildings or fence line
When is the storage building necessary?
There are many reasons to have a safety storage building, but the primary reason is that you are at risk of exceeding the maximum allowable quantity (MAQ) for the chemicals on your premises and require an alternate safe and compliant chemical storage location.
Another reason is for safely storing chemicals purchased in bulk (for example, 3-6 IBC totes or several pallets of drums that are ordered at the same time.) If you need to store the excess chemicals in a safe place under specific conditions and circumstances to comply with local and national regulations, you may require an outdoor storage building.
Compliance/Approvals
CP Lab Safety's outdoor storage buildings are:
Compliant with EPA & OSHA regulations
FM Approved (Factory Mutual Approved)
Designed in accordance with specifications set forth by the National Fire Protection Association (NFPA)
Supplied with UL listed electrical accessories (optional)
We always recommend that you check first with your facility's AHJ and local Fire Marshal for requirements specific to your area when considering the purchase of an outdoor chemical safety storage building. You will need this information to begin the quotation process.
More information
For more information, listen to our podcast with Grant Hart, a chemical safety storage building expert, to learn about all things related to your purchase of a safety storage building. Visit our website: cplabsafety.com or contact our team at (888) 322-5722 to request a quote.
FAQ:
Q: How is an outdoor storage building delivered and what do we need to do for delivery?
A: The building will arrive already assembled on a flatbed truck. Depending on the size of the building, you will need either a forklift or a crane to remove it and place it in its final location. Our team will guide you on how to prepare for delivery.
Q: How long does it take to arrive?
A: Outdoor storage buildings are made to order. Depending on how much customization is involved, the process of manufacturing and delivering the building will probably take about 6-8 weeks. During periods of high demand, it could be up to 10-12 weeks.
Q: Is it possible to have a split sump?
A: Yes. The most common reason for such a requirement is when storing acids and bases.
Q: Does the building come with accessories?
No. But there are a whole host of accessories that you can get for your storage building: an explosion-resistant fan, shelving, lights, liquid leak detector, vapor detector, etc.
Q: Do they come pre-assembled?
A: Yes.
Q: Do chemical storage buildings need to be grounded?
A: Yes. Once the building arrives at your desired location, it will need to be anchored on a level concrete slab using wedge bolts. Grounding should meet the NFPA 70 requirements and you should check with your Fire Marshal for proper grounding requirements as well.
Sources:
National Fire Protection Association Code 30 Flammables and Combustible Liquid Codes 2015 Edition
CP Lab Safety, "Grant Hart Podcast: Chemical Storage Buildings"
Recent Posts
The disinfection of surfaces at home, in public spaces, and in hospitals and clinics needs to be a …

Working with Inorganic Acids in the LaboratoryAcids are of great importance in the laboratory and ar …

1.Lead- from older plumbing systems pre-1986, when lead pipes, solder, and components were banned. …